NinjaTrader es la plataforma que utilizamos en Trading y Bolsa para Torpes, por lo tanto es la que recomendamos. Es una herramienta muy potente y contempla todas las herramientas que podamos utilizar. Además es una de las plataformas más reconocidas del mercado.

Las principales características de NinjaTrader son la fiabilidad y sus nulas limitaciones, por lo que la hacen una de las más potentes para hacer trading. Entre sus innovaciones incluye el SuperDOM donde podrás visualizar de una forma fácil y rápida el precio y con un simple click podrás entrar y salir en tiempo real.
Además tiene una utilidad óptima para los que miramos el gráfico que es utilizar las entradas directamente en Chart Trader, además de por el SuperDOM.
¡Descárgalo ahora pinchando en uno de los brokers del menú "Broker y NinjaTrader"!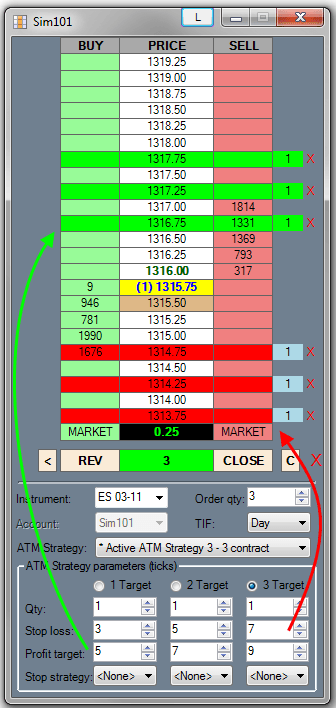 SUPER DOM:
Fácil de ver el precio.

Con un simple clic podrás entrar, modificar o cancelar tu entrada.

Puede ser utilizado con el módulo "Advanced Trade Management (ATM)"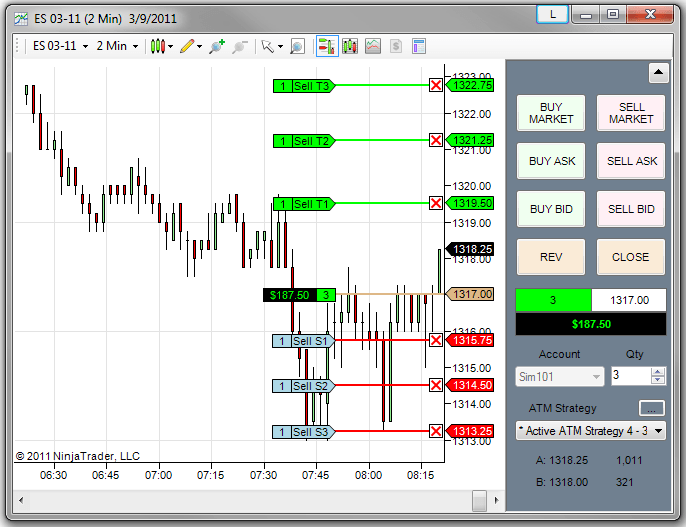 CHART TRADER:

Más fácil de ver el precio y el movimiento del mercado a través del gráfico.

Con un simple clic podrás entrar, modificar o cancelar tu entrada.

Puede ser utilizado con el módulo "Advanced Trade Management (ATM)"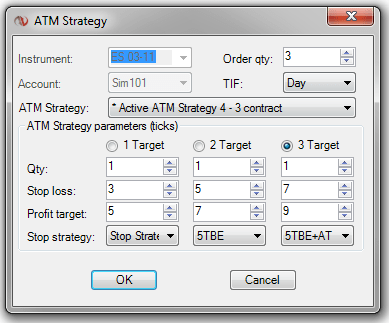 ADVANCED TRADE MANAGEMENT (ATM)
Es una utilidad diseñada por Ninja Trader que te permite pre-definir de forma personalizada multitud de estrategias, como: Órdenes de STOP de pérdidas, Órdenes One-cancels-Other (OCO), STOPS de auto rotura y mucho más. Esta utilidad permite enviar de forma automática ordenades de entrada y salida en milisegundos. El ATM ayuda a controlar el coste de la operativa y a bajar el nivel de estrés del momento, además de permitir órdenes manuales a su vez.
Utilizando las herramientas de análisis del mercado de Ninja Trader te ayudará a encontrar más oportunidades. Sus utilidades de analizar el mercado son totalmente fléxibles y permiten añadir tus propias ideas, para tener una experiencia más completa.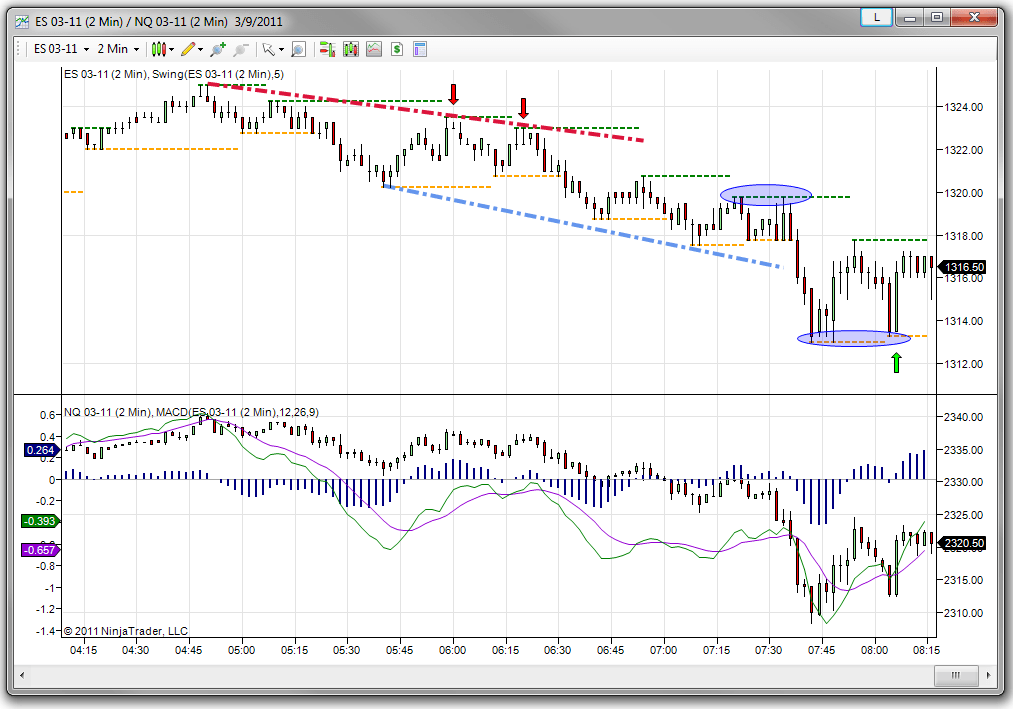 Ninja Trader es una plataforma independiente, por lo que podrás elegir al Broker y el servidor de datos que desees. Ninja Trader es compatible con todos los más conocido. El servidor de datos recomendado por Ninja Trader es Kinetick y puedes conocerlo un poco más pinchando en el icono de abajo.
---
NinjaTraderTM is our #1 recommended active trader platform. We are pleased to offer NinjaTraderTM to our clients for many reasons but one great reason is that you can get started with NinjaTraderTM for Free! Why pay hundreds of dollars per month for products with less functionality when with NinjaTraderTM all you need is access to a real-time or historical data feed. You can also connect NinjaTraderTM to KinetickTM, our recommended market data service, for free End-of-Day data!
NinjaTraderTM provides superior order entry options!
If you are using the wrong trading platform, order submission and trade management can be a timely and error prone process. Since 2003, NinjaTraderTM has pioneered easy to use yet powerful order entry and trade management functionality to overcome the limitations of other trading platforms helping our clients better achieve their trading goals!
The innovative NinjaTraderTM SuperDOM and Chart Trader set the benchmark for order entry screens and is one reason we recommend it to our clients. Considered the industry's best order entry screens they provide traders with ease of operation, clear trade visualization and fast entry to capitalize on today's markets.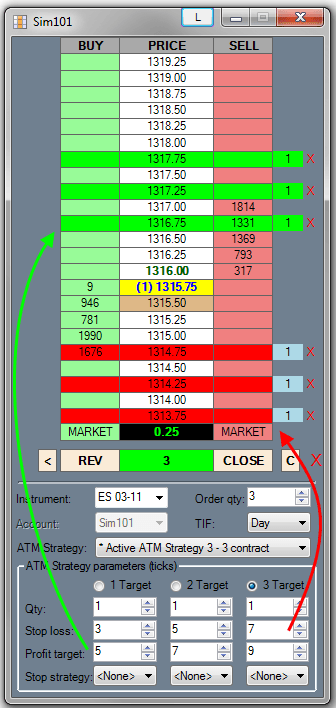 SuperDOM
- Easy to see trade visualization
- Single click order entry, modification and cancellation
- Can be use with Advanced Trade Management (ATM) module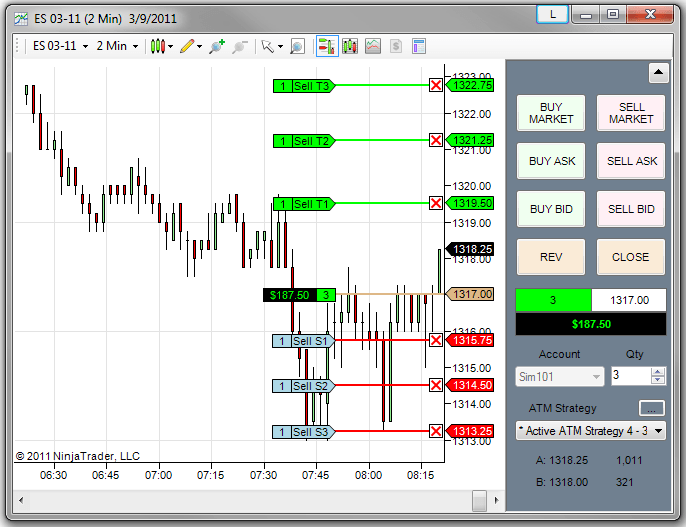 Chart Trader
- Easy to see trade visualization on the chart
- Single click order entry, modification and cancellation from the chart
- Can be use with Advanced Trade Management (ATM) module
NinjaTraderTM is the industry leader in trade management features!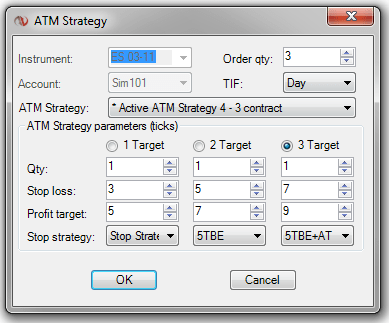 Advanced Trade Management (ATM) is NinjaTrader'sTM signature order management technology that lets you pre-define personal trade management strategies including; multiple profit targets and stop loss orders, one-cancels-other (OCO) orders, auto-breakeven stops, trailing stops and much more. This feature can significantly enhance trade performance by automatically submitting all entry/exit orders within milliseconds! This feature alone tends to cover the cost of the platform while simultaneously lowering your stress level by eliminating the "deer in the headlights" feeling commonly associated with manually managing multiple exit orders in fast moving markets.

- Easily specify multi-stage exit parameters
- Single check box to create an auto-breakeven stop
- Highly configurable and easy to use auto-trail stop
Utilize NinjaTrader'sTM comprehensive market analytics tools to help find trading opportunities!
Regardless of what markets you trade, what style of trader you are or if you require real time or end of day analytics, the NinjaTraderTM trading platform provides you the tools to analyze the markets and your trading ideas in a flexible, customizable and user-friendly manner that helps you trade better.
Charting
- Powerful market visualization
- Multi-time frame and multi-instrument analysis
- Over 100 pre-built customizable indicators plus 100s of optional 3rd party indictors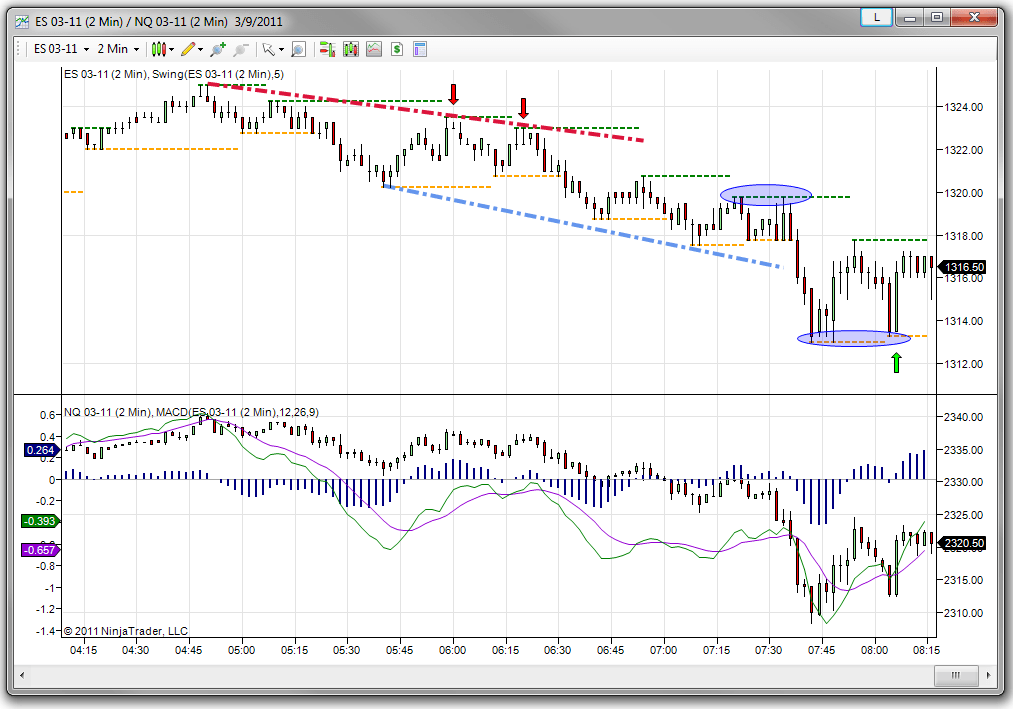 Other Analysis Tools
- Trade performance tool
- Market Analyzer
- Strategy analyzer
Automate and customize your trading!
Take your trading to the next level through custom development and trade automation! NinjaTraderTM provides you with the ability to automate your trading strategies whether they were developed natively using NinjaTraderTM or in an external application such as TradeStation.
Automated and Custom Trading
- Develop or purchase automated trading strategies
- Analyze automated trading strategies
- Execute automated trading strategies
- Process Trading signals from external applications
- Create or purchase 3rd party custom charting indicators
Choice of Market Data Services and Broker Connectivity Options
NinjaTraderTM is a broker independent trading platform so you have choice on where you can execute your trades. NinjaTraderTM supports all leading independent market data service providers including Kinetick, our preferred market data service. Paper trade and do your analysis with real time data without having to pay a single penny for software!

NinjaTraderTM is committed to providing Education and Support

Our team is technically familiar with NinjaTraderTM and provides basic client assistance. The NinjaTraderTM team however is deeply versed in all aspects of platform operation and can be easily accessed through email or their support forum. Their dedicated team of twenty plus client support specialist are at the ready should you ever need platform assistance. In addition, NinjaTraderTM provides daily educational webinars and a complete context sensitive online user's manual interlaced with many product videos to minimize your platform learning curve.
Education and Support
- Free daily NinjaTraderTM training webinars
- Media rich help guide
- Video library
- Active user community
---
Ninja trader es un graficador. Hay muchísimos graficadores pero nosotros hemos optado por este ya que se puede operar directamente en el gráfico y es vinculable al bróker que usamos. Al estar todas las explicaciones en ingles, hemos preparado estos módulos para que le sea fácil y eficaz utilizar la plataforma.